Collection: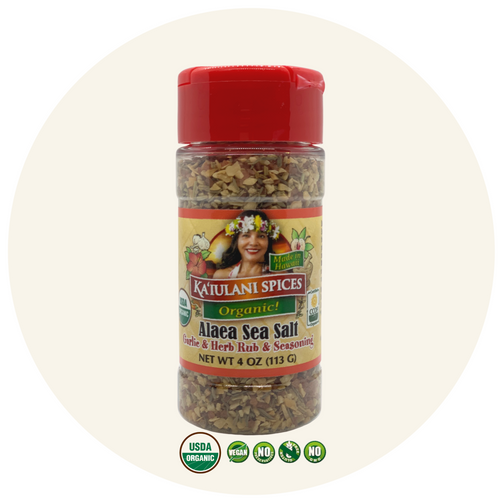 Collection:
Alaea Sea Salt
Alaea Sea Salt
Regular price

Sale price

$23.00
Alaea Sea Salt with Garlic + Herb seasoning is a classic! We all need some garlic and herbs in our dishes! This blend has a distinctive garlic taste, combined with aromatic herbs and Alaea Red salt from the Island of Kauai. Perfect on any protein or vegetable!
Ingredients: Alaea (Kauai volcanic red clay) Sea Salt, Minced Garlic, Rosemary, Bay Leaf, Black Peppercorn, Thyme.
OUR SEASONINGS ARE:
✔️Certified Organic 
✔️No MSG 
✔️Preservative Free
✔️Low in salt
Not only is the Red Alaea salt ideal for seasoning food, it has extraordinary nutritional value as it actually encourages a healthy cell fluid balance. It contains 80 different minerals, including potassium and magnesium which are typically stripped from processed table salts. These nutrients help regulate blood pressure + keep bones strong! Did you also know that one serving of Alaea salt has approximately 1/5 less sodium chloride than an equal portion of table salt?!